Sentinel Sound
- Riddim Check #12
2014, 75 Min., 1-track, mp3, 320 kBit/s cbr, 175 mb,
download mp3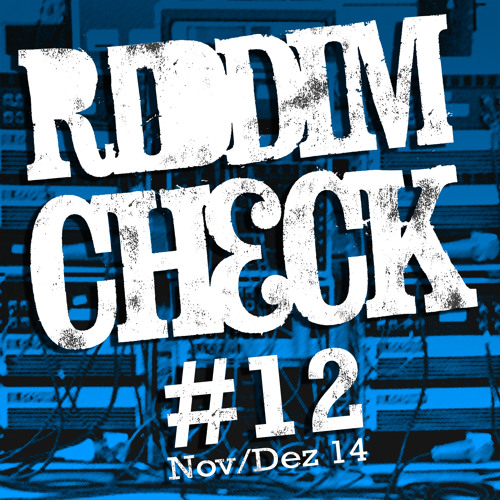 RIDDIM CHECK #12 (Nov/Dez 2014)
RIDDIM MAGAZIN & SENTINEL präsentieren den RIDDIM CHECK!
Pressure ft Damian Marley & Tarrus Riley - mental disturbance [Yard Vybz Ent]
-Freedom Fire Riddim [Independent Works]
RC - word of the people
Shuga - freedom
Esco Levi - love uself
Busy Signal - nah follow dem
Sahnique Marie & Raging Fyah - walk away [Equiknoxx]
Shaggy & Sanchez - with you [Big Yard]
-Four Seasons Riddim [Union World Music]
DaVille - life is precious
Torch - evilous
Lutan Fyah - mama
love Zagga - heal the soul
-7ven Riddim [UIM Records]
Chris Martin - change your life
Alaine - better than this
Bugle - educated dunce
Dre Island - hide away
Iba Mahr ft Tarrus Riley - Diamond Sox Remix
Busy Signal - hustler anthem [Turff]
Cedella Marley, Stephen Marley & Damian Marley - strike hard [Ghetto Youths Intl]
Masicka ft Shanique Marie & Addis Pablo - lighters [Equiknoxx]
Gage ft Ryme Minista - bounce [Star Plus Prod]
Vybz Kartel - a bay [Kanambo Music]
-Heat Rave Riddim [Birchill]
Vybz Kartel - gal a get mor
e Mr G - its going to be ok
Vershon - fuck up the world
Vybz Kartel - 6 missed calls [High Stakes Records]
-Sex Meter Riddim [Dj Sky Records]
DJ Sky - freaky girls
Vybz Kartel ft. Lushus - it hot
Tommy Lee - build a vibe
s Gage - Jah Jah
J Capri - boom and bend over [Rvssian]
RDX - dancehall [Apt. 19]
Pressure ft Chronixx - africa redemption
Masicka ft Garnet Silk - keep them talking [Don Corleon]
Yung JR - general [Bassick]
-Lion inna den Riddim [Iron Gates Records]
Fyakin - Gideon time
Lutan Fyah - hard to stay alive
Esco Levi - herb man
Sizzla - jah jah solve dem
Prince David - watch dem [Moa Anbessa]
Jules I - jah calling [Moa Anbessa]
.
#Soundsystem_DE
#Riddim_check