Sentinel Sound
- Riddim Check #11
2014, 97 Min., 1-track, mp3, 320 kBit/s cbr, 224 mb,
download mp3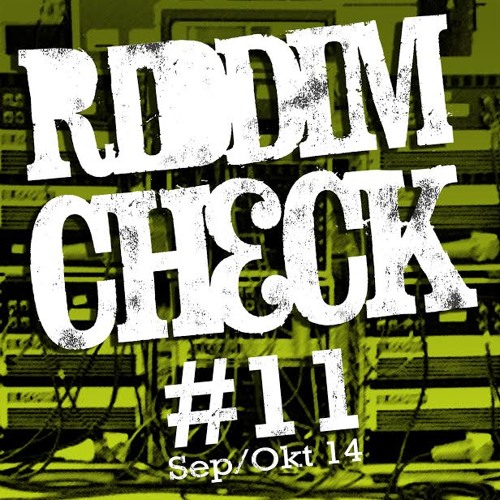 RIDDIM CHECK #11 (SEP OKT 2014)
RIDDIM MAGAZIN & SENTINEL präsentieren den RIDDIM CHECK!
Mr Williamz – Ganja Palaca [Necessary Mayhem]
Jah Cure – life we live [Iyan Cure Music]
-No more slaving Riddim [Island Life Rec]
Jah Bouks – no slave
Lutan Fyah – naw pull it
Gappy Ranks – selling stories
Capleton – to much man a dead
-Simply Natural Riddim [Larger than life Rec]
Luciano – mandela
Droop Lion – ganja baby
Chino – rasta calling
RC – running away
Clay – fire
Clay – shadow after dark
Clay – exodus
Vybz Kartel – don´t call this a love song [TJ Records]
-The Good Book Riddim [H20 Rec]
Vybz Kartel – life me say
Mavado – my own
Bounty Killer – kill and destroy
Alkaline – wha a gwaan
Demarco – good book
QQ – tweety bird
-Sunscreen Riddim [Dancehall Rulerz]
Navino – in and out of love
Don Tippa – its friday
Teacha Dee – party day
Mitch – ready fi di summer
Dahliha ft Masicka – mad ova mi [Zionnoiz Rec]
-Energy Up Riddim [First Name Music]
Mr Vegas – dem luv fi chat
Agent Sasco – instagram pose
Demarco – gal dem time
Busy Signal – hill & gully ride
-Gwaan Bad Riddim [DJ Fras]
Elephant Man – empty di clip
Mavado – nuh trust fren
I Octane – don´t give a fuck
Buju Banton – make it
-Coolie Ghee Riddim [Dee Buzz & Hard2def]
Sizzla – set di trend
Beenie Man ft Skarra Mucci – sunlight
G Mac ft Fido Guido - fire red
-Greatest Creation Riddim [Jukeboxx Rec]
Konshens – don dadda
Agent Sasco – big time
Shabba Ranks – hear mi nuh greatest
-Boat Riddim [Greezly Prod]
Skarra Mucci – self employed
Don Tippa – money move
Suga Banton & Add V – high everyday
Roddy – live my life
Omi & Busy Signal – color of my lips
Charly Black – bike back
-Soca
Peter Ram – juck she
Shortpree – ah like it
Tallpree – ole mass
Skinny Banton – ancient job
Sheldon Douglas – horn child
Mongstar – in a fete
Ricky T – nasty pressure
Ricardo Drue – hide & seek
-Moonshine Riddim [Bassrunner Prod.]
DaVille – call me anytime DUB
Wonda Prince – my love
Ronny Trettmann ft Stereo Luchs – bodyguard (gebt die Noten frei)
RC – blessing a rain
-Jah Blessing Riddim [Maximum Sound]
Chris Martin – jah in it
Cecile – war
Loyal Flames – go hard
Jah Cure – save my soul
.
#Soundsystem_DE
#Riddim_check