Redgoldgreen Label
- Mood Riddim
2015, 77 Min., 52-track, mp3, 192 kBit/s cbr, 171 mb, Front- + Back-Cover,
download zip
mediafire.com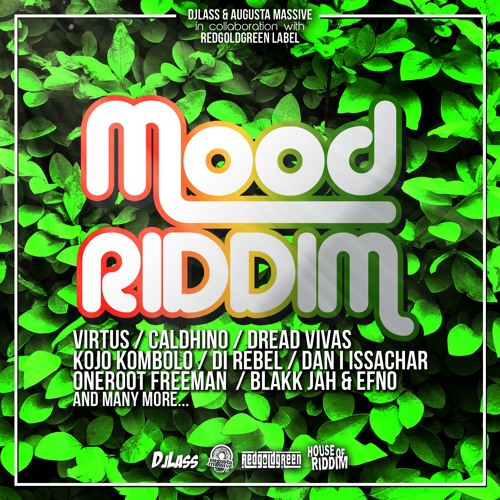 Big connection! Played by House of Riddim and produced by DjLass & Augusta Massive in collaboration with Redgoldgreen Label, Mood Riddim has a classic new-roots sound featuring artist from all over the world, from Jamaica and Africa to Europe like Kojo Kombolo (Ghana), VirtuS (Italy), Blakk Jah (Senegal) & Efno (Italy), Caldhino (Jamaica), Dread Vivas (Senegal), Di Rebel (Jamaica), Dan Issachar (UK) ft Eccleton Jarret, OneRoot Freeman (Netherland), Missal (Senegal), Nana Binghi (Ghana),Mustaf (Senegal), Africeen Dingkelu (Senegal), Micky B (Belgium), Prezerv (UK/JA), Jupiter Diop (Senegal), Amajang Wandialanko (Senegal), Docteur Baytoo (Senegal), Jeff Kaira (Malawi), Lan Netty (Senegal) and Nyx Lion (France).
TRACKLIST
1. Kojo Kombolo - Cannabis
2. VirtuS - More Than Romance
3. Blakk Jah ft Efno (Augusta Massive) - Love We Need
4. Caldhino - Di System
5. Dread Vivas - Wote Benno
6. Di Rebel - Dancefloor
7. Dan Issachar ft Eccleton Jarret - Noh Tun It Down
8. OneRoot Freeman - Jah Love
9. Kojo Kombolo - Butterfly
10. Nana Binghi - Red
11. Missal - Yaay
12. Mustaf - Bonn Bonn
13. Afreecan Dingkelu - Diop Sole
14. Micky B - We Are One
15. Prezerv - Keep and Care
16. Jupiter Diop - Life Is Love
17. Amajang Wandialanko - No Competition
18. Docteur Baytoo - My Sweet Girl
19. Jeff Kaira - Hold Me
20. Lan Netty - Spreading Love
21. Nyx Lion - Tourne Pas And Rond
.
#One_Riddim